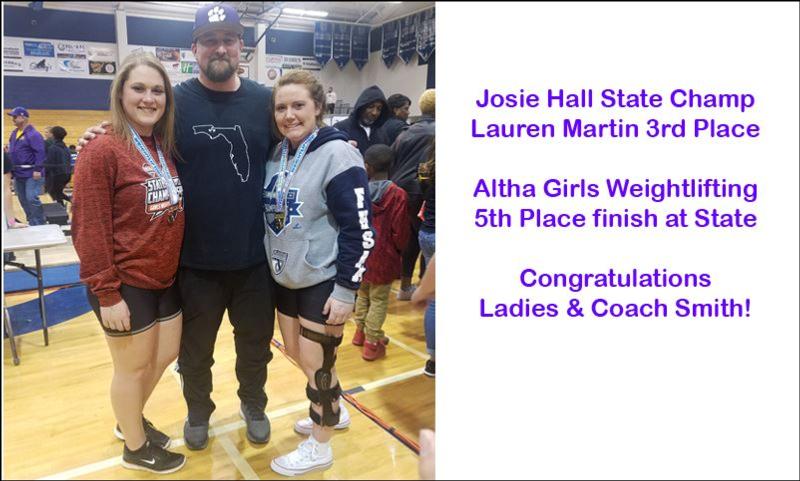 Josie Hall became Altha's 11th state champion, and Lauren Martin the 39th state medalist this past weekend at the 2018
Girls
' State Weightlifting Finals. It wasn't easy as both
girls
faced adversity. Hall had to successfully get her last clean and jerk after a miss on her second attempt. With the pressure of a state championship on the line, she stuck her jerk and secured the win. Martin had to fight back from a missed second bench press to stay in medal contention. She then went on to hit her all time best clean and jerk at 175 that secured third place. I knew these two
girls
were special back in middle school and had what it took to go far in the sport. That talent and a consistent work ethic payed off
Friday
! These two have worked very hard over the last four years and I'm so glad they get to see what hard work brings.
Makenzy Perkins and Marijane Davis also competed hard, with Makenzy getting an all time new max on bench press with 195. It was an impressive first state meet for the junior and should help her as she goes into her senior year. Marijane fought back from missing her opening clean and jerk to successfully get her next two. The Wildcats finished 5th as a team. The state finals capped the greatest season in Altha
girls
' history. This year's team won the District championship, finished region Runner up and 5th place at state as a team with 11 points. I am very proud of this group. You can't replace lifters like Josie and Lauren, but the future looks bright with the majority of the team returning next year. I would like to say thanks to everyone who came and supported the
girls
at the state meet. Your cheering could have been the extra push that made the difference!